Easy to use face mists
Nature's best for your skin
pyoura 100% natural mist toners for managing acne & pimples, dark spots, blemishes, wrinkles and much more. Made only from plant extracts. No chemicals or preservatives added.
Nature At Its Purest
From acne & pimple control to hair fall, our toners, hair mists and face packs address several personal care needs. Made only from
natural ingredients, each product is free from added
chemicals, alcohol & preservatives. .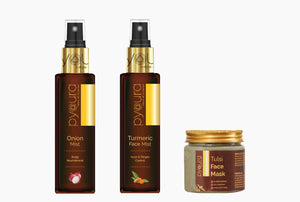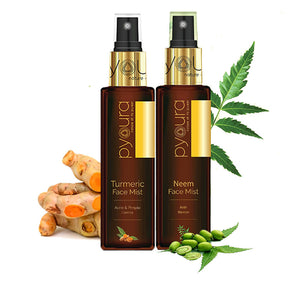 About pyoura
The pyoura promise is a pledge that our products are 100% pure and natural. This is our promise to you. And we have kept that ever since we started. At pyoura we only explore ingredients proven by tradition, to capture their benefits using innovative technology, rigorous testing methods while strictly adhering to safety regulations...
Read more
What our customers Say
Wonderful products, love them!
Awesome mists !! They feel really pure and natural on the skin. Haldi mist works wonders for acne in just a few applications. Tulsi mist is very soothing and hydrates the skin beautifully. I bought this combo pack after using the Pyoura Rose mist that a friend gifted to me. That one's also amazingly pure and refreshing with a sweet fragrance of real roses.
Very effective, therapeutic, organic and pure mists. An absolute treat for the skin. Would highly recommended to all.
Thanks to Pyoura for making such genuine and chemical free products available to us.
S.S
Very convenient toner for acne treatment
The product was beautifully packaged. We ordered it to treat my daughter's (somewhat severe) facial acne. She has been using it twice a day for the last few days - and the acne has reduced considerably. The best feature of the product is its convenience. Typically a besan-haldi mask takes some time and planning and can only be applied on days where one has some leisure. There is also the possibility of clothes getting stained. Given the unavailability of raw turmeric, one often uses the turmeric powder used in cooking which may not have all the benefits of raw turmeric paste. This toner can be applied easily and seems to be quite effective. Good purchase.
Thanks Pyoura!
DC
Effective solution to Acne: Turmeric root water by Pyoura
I was recommended Turmeric water by PYOURA by a friend for my acne breakout. Little did I know the product had added benefits. It helped in getting an even skin tone without leaving the usual yellow colour of turmeric. I would suggest this product for all the people with acne problems and to explore their range of products.
Koel
Natural and pure
I bought Turmeric mist and along with the package received mini - Neem & Tulsi mists as well as a great surprise. The packaging was too good to set the first impression. I used the product in my homemade face pack.. One can use the same to clean up face before bed time. As promised the product feels pure and natural.!
Tanu
Super Hydrating & 100% natural product
This is my holy grail product whenever I get acne on my face. I just spray it overnight for faster relief and it works. Super hydrating and it is 100% natural. Will recommend this product to everyone who is dealing with acne.
Bhavika S.
Great Product
Really enjoyed using it. Easy to use. Gives the face a hydrated look
Pradyut Sood
Our Blog
Where skincare science, traditions and nature converge
ONE DAY SHIPPING ACROSS INDIA
We usually ship within a day of your order
FREE SHIPPING
We ship free all over India
SECURED PAYMENTS
We accept all credit cards