Benefits of Mogra
Mogra Mist at its purest
Instant invigoration is what the skin needs to battle summer heat and monsoon humidity.  The best would be something that is light on the skin and easy to use.   So that you can use it any time you want.  Any where you are.

Presenting the all new pyoura Mogra Face Mist!  From its calming fragrance to its hydrating power, topped with its skin protecting abilities, mogra (jasmine) flowers have been trusted for skincare through the ages.  pyoura Mogra Face Mist brings to you this goodness of mogra in an easy-to-use, no-preservative, no-alcohol face mist spray that can be your skin's companion all through the day.
Just spray on face and dab gently with a soft cotton swab.  Do it as often as the skin demands!  As simple as that!  Grab your easy-to-use, alcohol free pyoura Mogra Face Mist now!
Attractive introductory price. Free shipping too!
Economical n Easy to use. Non-greasy & light on the skin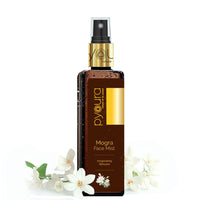 Skin Invigorating Mogra Alcohol Free Face Toner Mist 100% pure extract of fresh mogra. No Water. No Steam.
- 100 ml
₹ 464.00