Benefits of rose
Soothing Toner. Rose at its purest.
Soothing Hydrating Rose Toner Mist captures the skin soothing and nourishing actives from fresh rose petals without adding any water, steam or artificial fragrances.
Alcohol free, natural toner made only from fresh rose petals

Provides soothing hydration for dry skin

Easy to use toner in mist form: Just spray on face and dab with cotton swab
Apply after cleansing face; use moisturizer after applying
More ways to use:  Mix with your face pack. Use before makeup, after removing it or when on the go.
Economical to use: No wastage due to direct application
Suitable for all skin types
Does not contain parabens, preservatives or SLS
Enjoy nature at its purest.
Quick n Easy to use. Leaves no stains.
Product & Manufacturing Information
KEY DETAILS
Product Name: PYOURA Rose Face Mist
Shelf Life: 24 Months (from date of Mfg.)
Country of Origin: INDIA
Dimension (LxWxH) in cm: 3.5 x 3.5 x 14
MANUFACTURED BY:
AyurFresh Greens LLP
at 495 FIE, Patparganj
Delhi - 110092
MARKETED BY:
AyurFresh Greens LLP
B1/H3, Mohan Co-Op. Ind. Area
New Delhi 110044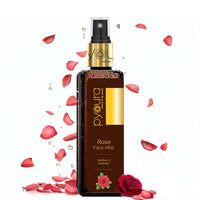 Rose Face Toner Mist Soothes & hydrates dry skin. 100% pure extract of fresh rose petals. No Water. No Steam
- 100 ml
₹ 329.00