Benefits of amla
Easy-to-use Amla Mist for your hair
Amla, "the elixir of life"!
This scalp revitalizing hair mist is made using a unique process that captures the hir h6>caring actives from tree-fresh amla berries within hours.  The mist is 100% natural and so pure that, not just  parabens, alcohol or preservatives, even  water or steam have not been added. 
Its pH of around 5.2 makes it comfortable for your scalp which has a natural pH of around 5.5.  Lab tests which confirm the absence of heavy metals and infectious bacteria strengthen the confidence of being safe to use.  Please check for allergies before using.
The mist is long lasting, economical and quick-n-easy to use.  Stain free, it has the characteristic aroma of fresh amla berries.   Stimulate your hair to a lustrous growth and win over dandruff and itchy scalps. 
 Enjoy nature at its purest.
Quick and easy to use. Non-sticky
Product & Manufacturing Information
KEY DETAILS
Product Name: PYOURA Amla Mist
Shelf Life: 24 Months (from date of Mfg.)
Country of Origin: INDIA
Dimension (LxWxH) in cm: 3.5 x 3.5 x 14
MANUFACTURED BY:
AyurFresh Greens LLP
at 495 FIE, Patparganj
Delhi - 110092
MARKETED BY:
AyurFresh Greens LLP
B1/H3, Mohan Co-Op. Ind. Area
New Delhi 110044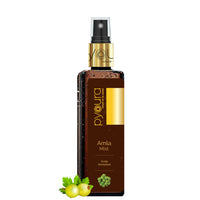 Amla Mist Relieves Itchy Scalp and Dandruff Non-greasy. No alcohol or preservatives added.
- 100 ml
₹ 600.00