Benefits of neem
This Neem Toner Mist is no mean thing!
100% PURE NEEM LEAF EXTRACT. No water or steam added for collecting the actives contained in fresh Neem leaves. No Solvents, Chemicals or Added Fragrances used for preparing our Neem Leaf face mist. Just the pure extract of neem leaves in a convenient, easy to use mist spray bottle.
COMPLETE SKIN CARE Helps manage dark spots. Provides refreshing hydration for your face. Rejuvenates tired skin, helping to create a more vibrant and youthful complexion.

SUITABLE FOR ALL SKIN TYPES Spray on face and neck. Effective foundation for Serums and Moisturizers. Use before applying makeup, after removing it, at night or to just refresh your skin when on the go. Use it with your face pack.
100% NATURAL STAIN FREE May contain some natural sediment making it appear cloudy. This is due to natural waxes/essential oils & actives that settle out of the extracted water. It does not indicate any deterioration in quality.
NO ADDED CHEMICALS Free from preservatives, Paraben, SLS and Alcohol. Cruelty free - not tested on animals. Contains no animal ingredients.
Know the wonderful benefits of Neem - Read more here
Quick n Easy to use. Leaves no stains.
Product & Manufacturing Information
KEY DETAILS
Product Name: PYOURA Neem Face Mist
Shelf Life: 24 Months (from date of Mfg.)
Country of Origin: INDIA
Dimension (LxWxH) in cm: 3.5 x 3.5 x 14
MANUFACTURED BY:
AyurFresh Greens LLP
at 495 FIE, Patparganj
Delhi - 110092
MARKETED BY:
AyurFresh Greens LLP
B1/H3, Mohan Co-Op. Ind. Area
New Delhi 110044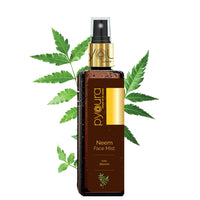 Neem Toner Face Mist Spray Manage Acne, Pigmentation & Blemishes Alcohol Free, 100% natural, easy-to-use mist spray neem toner
- 100 ml
₹ 329.00