Benefits of onion
All onion. No oil. No odor.
pyoura Onion Hair Mist
is made using a unique process that captures the scalp nourishing actives from finest quality deep purple onions. 
100% natural and so pure that, not just  parabens, sulfates, alcohol or preservatives, even  water or steam have not been added.

When applied to scalp, onion supports thick hair, prevents hair loss, helps hair growth, nourishes scalp and helps reverse premature greying
pH of around 6.0 makes it comfortable for your scalp which has a natural pH of around 5.5. 
Lab tests which confirm the absence of heavy metals and infectious bacteria strengthen the confidence of being safe to use.  Please check for allergies before using.
The mist is long lasting, economical and quick-n-easy to use. 
Stain free, it has the characteristic aroma of healthy, juicy onions. 
Nourish your scalp to support thick hair and prevent hair loss.  Get help with managing lice infestation too.

Enjoy nature at its purest.
Quick and easy to use. Non-sticky
Product & Manufacturing Information
KEY DETAILS
Product Name: PYOURA Onion Mist
Shelf Life: 24 Months (from date of Mfg.)
Country of Origin: INDIA
Dimension (LxWxH) in cm: 3.5 x 3.5 x 14
MANUFACTURED BY:
AyurFresh Greens LLP
at 495 FIE, Patparganj
Delhi - 110092
MARKETED BY:
AyurFresh Greens LLP
B1/H3, Mohan Co-Op. Ind. Area
New Delhi 110044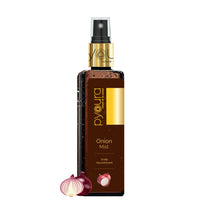 Onion Mist Manage hair fall. Nourish scalp No alcohol or preservatives. No lasting odor
- 100 ml
₹ 600.00