Benefits of cucumber
Cucumber for skin - the easiest way
Soothing Hydrating Undereye Cucumber Toner Mist captures the skin soothing and nourishing actives from garden fresh cucumbers without using harmful chemicals, alcohol, preservatives or artificial fragrances. 
The naturally powerful anti-oxidant properties of cucumber keep the skin youthful and give it the power to heal quickly from cuts and burns. 
Spray on face when out in the scorching sun for that instantly refreshing feel.  Use also before and after makeup as a soothing cleanser. Gently dab or rub with a soft cotton swab.   Apply at night before moisturizer to lock in those all-important skin hydrating properties.  You can even it to mix your favorite face pack.
Likewise, spray it under the eyes and again dab gently with soft cotton swab to get those soothing, clarifying cucumber actives.  Get freedom from being locked for eons under cucumber slices!
The toner mist is long lasting, economical and quick-n-easy to use.  Even more, it is 100% vegan and cruelty free.  Stain free, its neutral aroma ensures no residual odours on skin.
Lab tests which confirm the absence of heavy metals and infectious bacteria strengthen the confidence of being safe to use.  Please check for allergies before using.
Get freedom from being locked for eons under cucumber slices!
Enjoy nature at its purest.
Quick n Easy to use. Leaves no stains
Product & Manufacturing Information
KEY DETAILS
Product Name: PYOURA Cucumber Face Mist
Shelf Life: 24 Months (from date of Mfg.)
Country of Origin: INDIA
Dimension (LxWxH) in cm: 3.5 x 3.5 x 14
MANUFACTURED BY:
AyurFresh Greens LLP
at 495 FIE, Patparganj
Delhi - 110092
MARKETED BY:
AyurFresh Greens LLP
B1/H3, Mohan Co-Op. Ind. Area
New Delhi 110044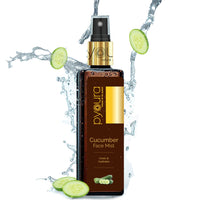 Hydrating Undereye Cucumber Toner Soothes skin irritation and hydrates dry skin Alcohol Free, 100% natural, easy-to-use mist spray
- 100 ml
₹ 450.00