Benefits of brahmi
Easy-to-use Amla Mist for your hair
Brahmi, "the elixir of life"!
"Fresh material from
exclusively sourced Brahmi
plants is processed in our
unique facility to capture its
hair-caring actives without
the use of chemicals or
preservatives. We bring to
you the best of Brahmi in
a non-sticky, easy to use
spray mist. Enjoy nature
at its purest."
Quick and easy to use. Non-sticky
Product & Manufacturing Information
KEY DETAILS
Product Name: PYOURA Brahmi Mist
Shelf Life: 24 Months (from date of Mfg.)
Country of Origin: INDIA
Dimension (LxWxH) in cm: 3.5 x 3.5 x 14
MANUFACTURED BY:
AyurFresh Greens LLP
at 495 FIE, Patparganj
Delhi - 110092
MARKETED BY:
AyurFresh Greens LLP
B1/H3, Mohan Co-Op. Ind. Area
New Delhi 110044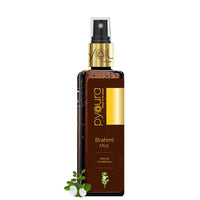 Brahmi Natural Conditioner & Hair Growth Promoter Non-greasy. No alcohol or preservatives added.
- 100 ml
₹ 675.00