Benefits of rose
Description
This rose face mask is the product of a unique process that captures the skin nourishing actives from plant-fresh rose petals within hours.  The naturally powerful anti-oxidant properties of rose help keep the skin youthful and healthy.
The face mask is 100% natural and pure, free from preservatives and artificial fragrances.   
The smooth texture of the face mask helps ensure uniform and smooth application.  To use, mix 1-2 level teaspoons powder in enough clean water to make an easy flowing paste. 
For best results, prepare using pyoura Rose Face Mist.  This face mask can also be mixed with other ingredients such as turmeric powder, sandal powder or multani mitti. 
Apply on face using a soft face brush.  Wait till dry and then wash off with clean water.  To get longer lasting benefits, use pyoura Turmeric Face Mist after washing off. 
Please check for allergies before using.
The face mask is economical and quick-n-easy to use.  Even more, it is 100% vegan and cruelty free.  Stain free, it has the characteristic aroma of fresh rose petals.  
Nurture your skin to a bright glow!
Enjoy nature at its purest.
Easy to use. Leaves no stains.
Product & Manufacturing Information
KEY DETAILS
Product Name: PYOURA Rose Face Mask
Shelf Life: 24 Months (from date of Mfg.)
Country of Origin: INDIA
Dimension (LxWxH) in cm: 6 x 6 x 4.8
MANUFACTURED BY:
AyurFresh Greens LLP
at 495 FIE, Patparganj
Delhi - 110092
MARKETED BY:
AyurFresh Greens LLP
B1/H3, Mohan Co-Op. Ind. Area
New Delhi 110044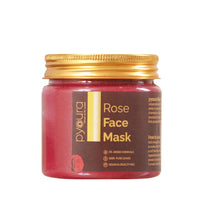 Rose Face Mask The power of fresh rose petals for a glowing skinHygienically dried to capture skincare actives. No preservatives added.
- 60 gm
₹ 280.00